BASQUE
489 Wallace St is the home to Basque. After being open for a few months we decided to check out it out. Upon entering this warm July evening we found it to be warm and welcoming, yet not very busy for 6pm. The area inside is very lounge like, with a nice looking bar and open space. They play live jazz music on Fridays and Saturdays. In the past I've found a lot of places with live music to be TOO loud and it was difficult to carry on a conversation, but if that's your thing you might want to check that out.
We perused the menu and realized that the tapa menu was larger than the entree selection. There was only 9 selections on the entree page, and most of them were things such as lamb or duck. They did have a burger and fries (disguised under a somewhat fancy name). I ordered a martini that tasted like I made it at home and it wasn't very cold. We decided to order appetizers and tapas (since they were the only thing slightly appealing to us). We picked crab cakes, navajo fry bread (parmesan) shrimp in a garlic chili sauce and steak and shrimp kebabs.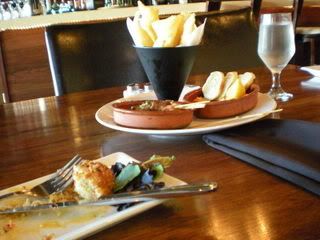 It looked very appealing and we dove right in. The crab cakes were spectacular, perfect crispiness on the outside and moist and delicious on the inside. They had a bernaise hollandaise sauce lightly drizzled on top. The steak was slightly overcooked on the kebabs and everything else was mediocre. The best thing about Basque was the service, hands down. She was cheerful, prompt and genuinely seemed like she cared. This is honestly hard to come by in the service industry these days.
All in all, I probably wouldn't go back to Basque, unless their menu entrees became more extensive. It's not a bad choice if you're in the mood for a few different kinds of tapas though, but there are plenty of better choices in Nanaimo for tapas!