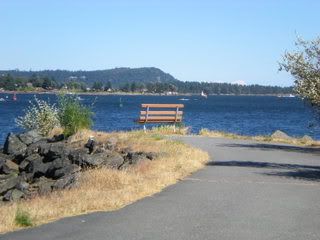 Maffeo Sutton/Swy-a-lana Park (Nanaimo Waterfront)
Nanaimo's waterfront is a treat in the summer. Lots of people, events and sights to see. From the waterfront you can choose to take a short boat ride over to adjacent islands if you so desire. But the waterfront alone boasts a nice leisurely stroll along the waterside, multiple places to stop for food such as Trollers Fish and Chips (not just fish and chips), Penny's Palapas, Light House Bistro. Throughout the summer the waterfront is home to various markets that sell local products. You can often spot dragon boaters in the bay and small sea planes landing and taking off. There is a small beach which few people use for swimming but the kids would probably prefer the large playground a few feet away. The waterfront is a short jaunt away from the beautiful downtown of Nanaimo where small quaint shops await discovery. Sailboats, yachts and speedboats line the bay and cruise ships can often be spotted near Cameron Island. Cameron Island is home to high priced condos and the waterfront path follows all the way around the area.
Parking is free for the first 3 hours, which is usually more than enough time to explore and take in the sights. If you choose to take a trip over to one of the many islands (Protections, Gabriola and Newcastle) you'll need to purchase a parking ticket. The area is not an offleash park and biking and rollerblading is not suggested (there are police and bylaw officers that patrol frequently in the summer) the foot traffic is a deterrent. I wouldn't even suggest jogging during the busy times (5-8) as I've often seen joggers get stuck behind walkers.
It's probably the best idea to explore the waterfront before dark as it can attract the night crowd. It's best during the day anyways!