Nanaimo Pipeline Trail (TransCanada Trail)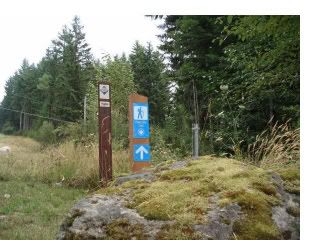 Finding the beginning of the trail down Nanaimo River Rd can be the biggest challenge as it is basically unmarked.
Access to the Nanaimo Pipeline trail via the Nanaimo River Road can be
found about 8km from the main island highway at the Pipeline Trail
access (look for two white gates on either side of the road). Unmarked
but look for some small signs courtesy TRAILS BC. It's easy to miss as the signs are very small and unoticeable. Once on the trail there are many popular swimming holes along the trail and it can be quite busy in the summer. I often go with my dogs offleash in the spring and fall, where I rarely see anyone. The trail also leads down to Nanaimo River white rapids and there are markers leading down to the trail.